ARM®
S1C31 family
Epson's S1C31 is the ARM®Cortex®-M0+ (32bit) processor family with several build in features such as Timer, Serial interface, LCD driver, USB controller and Flash memory.The harmonization the Epson's original low leak process and this energy efficient ARM®Cortex®-M0+ processor, can contribute to those application which desires longer battery life with high accuracy.
(Application examples : Portable measurement applications and etc)

ARM and Cortex are registered trademarks of ARM Limited in the EU and other countries. All rights reserved.
Product lineup
S1C31W00 Series
This series can drive Black/White LCD using internal LCD Driver directly with lower power consumption. It's suitable for portable products with LCD.
S1C31D00 Series
This series has the interface and graphics controller circuit of the memory LCD.
S1C31W00 Series
Status
Product
LCD Driver
Clock frequency
(Max.)
Flash
RAM

Data sheet

Manual

Manual Errata
MP
S1C31W74
72segx32com
20.5MHz
512KB
128KB

754KB

10,027KB

275KB
S1C31D00 Series
Status
Product
Display controller
Clock frequency
(Max.)
Memory

Data sheet

Manual

Manual Errata
Flash
RAM
MP
S1C31D01
300x300 (max)
6bit RGB
20.5MHz
256KB
96KB

854KB

10,990KB

268KB
ST(Status) MP(Mass Production) UD(Under Development) NP(Non Promotion)
S1C31 Family Features
Product Line-up
The S1C31 Family shares the same manufacturing process with the Epson's original low power 16bit microcontroller, S1C17 family. But the performance and the build in functions are enhanced.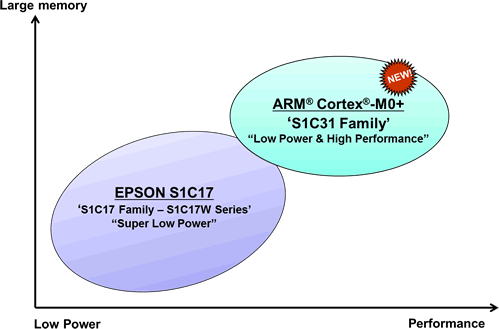 Comparison of code size
The S1C31 family's code size has an efficiency of 20% comparing with Epson's original 32bit microcontroller S1C33.

Comparison of power consumption
The average power consumption of the S1C31 family is 1/2 comparing with Epson's original 32 bit microcontroller (same operation condition)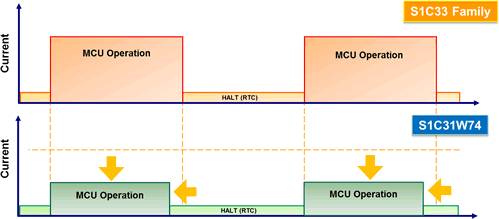 Target Application