Display Controller IC/Interface IC for Automotive
S2D13V52(Scaler IC)

The S2D13V52 is a Scaler used to upscale/downscale streaming image data from one resolution to another. An internal line buffer and special synchronization logic provide seamless transition from one display resolution to another. A full frame buffer is not required. Customer can develop optional resolution display system with existing Host CPU. S2D13V52 is qualified for automotive design including AEC Q100/IATF16949 compliance and several error detection features. Other features include a double buffered LUT for gamma correction, self-test image pattern generation, input crop, area blanking.

Features
High Quality 4x4 Upscaler (1x ~ 2x)
Bi-Linear Downscaler (0.5x ~ 1x)
Gamma Correction
Input Crop
Area Blanking
Error Detection features
AEC Q100/IATF16949 compliant
Outline Specifications
Part Number

S2D13V52

Power Supply

3.3V(I/O) / 1.8V(Internal)

Input Interface

OpenLDI-Rx (1ch/2ch)

Output Interface

OpenLDI-Tx  (1ch/2ch)

Input Resolution

Max : ~1920 x 1080@60fps

Output Resolution

Max : ~2880 x 1080 or 2400 x 1400@60fps

Host Interface
SPI/I2C

Image Correction

Gamma Correction

Error Detection

Input Video Data CRC Check
Hsync/Vsync/DE Watch Dog Timer
OpenLDI Input Clock Stop Check
Input/Output Resolution Check 

Automotive QA

AEC-Q100 Qualifiaction
Operating Temperature = ー40~105℃

Miscellaneous

Internal PLL
Self test image pattern generation

Package

H4QFP15-100-pin (14mm x 14mm ,t=1.7mm, 0.5mm pitch)

Briefsheet
Status
Under Development

S2D13V70 (eDP⇒OpenLDI Bridge IC)

S2D13V70 is an eDP(rev.1.4a) to Open LDI bridge device which can realize the connectivity between the eDP source to the display panel with the Open LDI interface. It can receive the data rate of 1.62Gbps/2.7Gbps with 1 lane/2lane eDP and convert it to transport with 2ch Open LDI signaling with the pixel clock frequency up to 148.5MHz (per 1ch). The specification is simple enough so that it can be easily inserted into existing system display architectures with minimal modifications required, making it an ideal solution for both existing and future designs.S2D13V70 is also qualified for automotive design including AEC-Q100 certification and several functional safety features.

Features
Simple Bridge S2D13V70

Power Supply

3.3V / 1.8V dual supply

Input

eDP rev.1.4a x 2Lane, Max 2.7Gbps/lane

Output

OpenLDI-Tx x 2Ch, Max120MHz/ch

Display resolution

up to 1920 x 1200@60fps

Host IF

SPI

Image Correction

8-bit Digital Gamma LUT + 2-bit Dithering

Safety Feature

SPI connection (checksum function by 16byte cache)
Input pixel clock/sync. signal monitoring
CRC (Full screen / Register setting / Frame comparison)
Output watermark function
Blank screen
Error / Interrupt pins

Automotive QA

AEC-Q100 qualifications
Ta : -40 ~ 105℃

Others

System Clock : 48MHz for always running clock
SPI Bridge (SPI Slave to Master bridge)
Splitter function (Line split / LR split)

Package
PFBGA8-81 (8mm x 8mm x 1.2mm, 0.8mm pitch)
Briefsheet
Status
Under Development

Splitter Function
Splitter Function(Line or LR split)
Resolution size : Possible to sprit dual display within 1920×1080 resolution.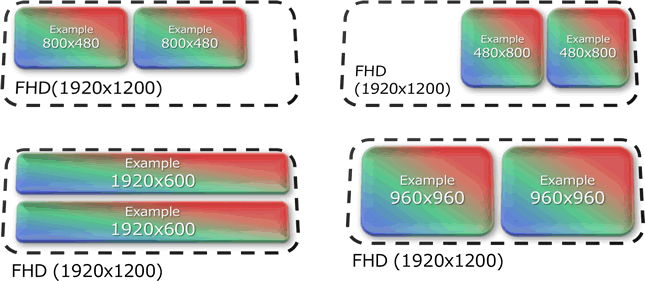 S2D13P04(Camera Interface IC)


Epson camera interface ICs is suitable for the multi camera system. They have the camera inputs of 4 channels and output with 4 kinds of modes; fixed chanel, mergence, auto scan, and compression. Because VRAM for the picture processing is built into, the camera interface of 4into1 can be achieved by single-chip.The number of the camera can be easily increased without any change from 1 camera system.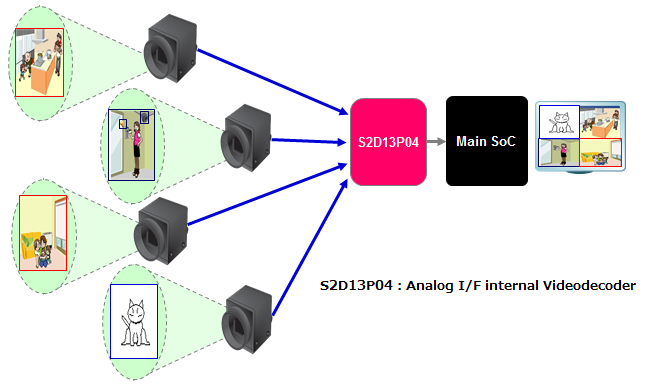 Camera Interface ICs lineup
Status
Download
Model name
Outline
MP
Document download
S2D13P04
The S2D13P04 supports the NTSC/PAL signal. 4 video decoders are implemented to each 4 channels input independently,and video signal isoutput by stable frame rate.
MP
S2S65P10
The S2S65P10 converts the interlace signal into the progressive signal. The digital output of the NTSC/PAL video decoder can be converted into progressive.