Dry Fiber Technology - the applications
Culturing Euglena with sugar from used paper
The sugar necessary for culturing Euglena is produced by separating used paper into fine cellulose fibers and subjecting them to enzymatic decomposition.
Our development work is focused on enabling this sugar to be produced in stable quality and quantity.
Biomass plastic can be produced by extracting the sugar crystals of Euglena, and this, in turn, will reduce use of petroleum-derived plastics.

Printer ink pads
Epson is producing absorbent printer ink pads from used paper that is collected in-house.
These ink pads are made by loading used paper in machine equipped with Dry Fiber Technology, separating the paper into fibers, adding a binder, applying pressure to form pads, which are then cut.
This method of producing ink pads is already being used in Epson factories.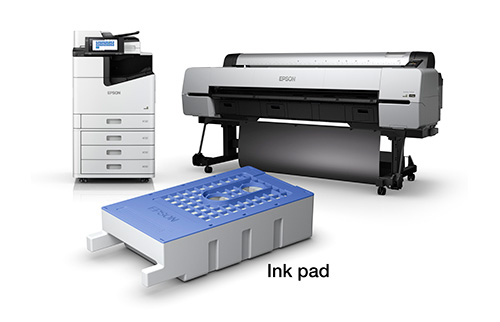 Note: These services are provided using YouTube™.
YouTube is a trademark of Google Inc.
Sound absorbing panels and packaging cushioning
The porous panels made using Dry Fiber Technology are effective sound dampeners for equipment.
This property makes it useful in dampening machine noise, so Epson is using it to line the inside walls of equipment.
Cushioning made using Dry Fiber Technology is used by Epson in product packaging for shock absorption.

Face masks
Epson began manufacturing face masks in response to the Covid-19 pandemic. Dry Fiber Technology was used to form the filtration layer situated between a mask's inner and outer layers from functional fibers, thus enabling Epson to rapidly launch mask production.

* These masks are not for sale.
The PaperLab A-8000 turns used paper into new paper using Dry Fiber Technology
Recycled paper is produced by defibrating paper without using water1, so there is no need for major plumbing construction. A PaperLab can be installed in an office space to make new paper right on site.
A PaperLab significantly helps to curtail transport CO2 emissions because less paper needs to be purchased and less used paper needs to be hauled off-site for disposal. It also helps to maintain confidentiality by destroying documents securely.
1 A small amount of water is used to maintain a humidity inside the system.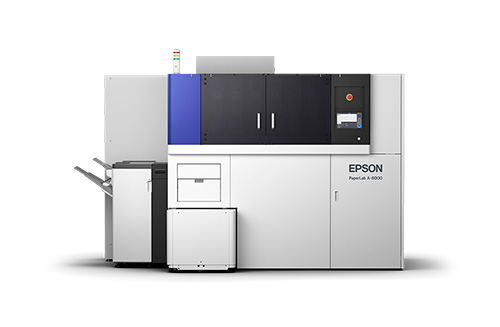 Pursuing new possibilities
Dry Fiber Technology allows you to handle and process materials as never before because materials are defibrated using mechanical force instead of water2.
Epson has been receiving inquiries from people who wonder whether materials that are currently difficult to defibrate can be recycled, or whether functional materials that dissolve in water or other liquids can be mixed in with fibers. Epson is also conducting development tailored to the needs of customers such as these.
2 Moderate humidity is required.