Epson offers simplest speech IC without traditional studio recording by a person. Our sophisticated codec engine eliminates such studio recording and generates neutral human sound quality as well as high compression rate. The Epson Voice/Audio IC enables a seamless IC platform to transform almost any applications into user-friendly voice prompted devices.
*Please request after purchasing Epson evaluation board
(1) Inform coming trouble in advance

(2) Help to clear the Problem

(3) Guidance for easily setting

♪ Please press # and hold for more than 1sec
(4) Inform danger & action

!! Carbon monoxide warning, please open the window
!! Smoke Detected, Please go away
(5) Inform the setting result

♪ set 180℃,10 min timer
♪ set timer, it will be ready at 7:00 in the morning.
(6) Inform the result w/o reading

♪ Systolic blood pressure is 128, diastolic blood pressure is 83.
!! 38.3℃

♪ Cappuccino is ready
♪ The cooking will be over in 3 min
(8) Produce a realism with good sound


: Voice guidance to avoid problems & dangers
: User-friendly voice guidance
Product lineup
Related information
Characteristics
1. Epson's voice guide solution is so easy to use!
Usual approach to adding a voice function
Arranging voice talent and a studio takes time and money. You have to start again from arrangin the voice talent when there is a change of voice content.

Epson's voice guide solution
Our solution uses a voice synthesis tool for PC, eliminating the need for studio recording, which is costly and time-consuming. That means there's no additional cost or time spent when there are suddenly changes to be made to the audio.

2. Multilingual support
| | |
| --- | --- |
| Asia | Japanese, Chinese, Korean |
| Americas | American English, American Spanish, Canadian French |
| Europe | British English, German, French, Spanish, Italian, Russian |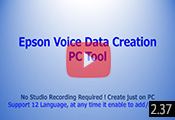 3. Even a small amount of ROM space can hold a lot of audio data
Epson's proprietary high-sound-quality compression algorithm achieves ROM sizes only 1/4 to 2/3 the size of ADPC.
Storing more audio data with the same amount of ROM allows this solution to save space and support multiple languages.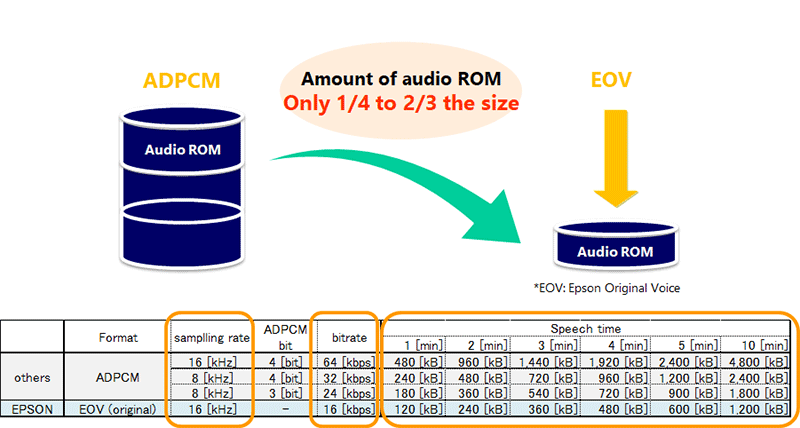 Examples of applications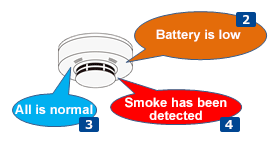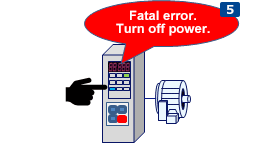 1 Registration failed. (US English)
2 Battery is low. (US English)
3 All is normal. (US English)
4 Smoke has been detected. (US English)
5 Fatal error. Turn off power. (US English)
Customer comments