S2R72A21
S2R72A21 is the Re-Synchronization IC which re-synchronizes the HS packet of USB 2.0 (Universal Serial Bus Specification Revision 2.0).
Stable longer connection using various USB applications, such as car navigation / car display audio to the smart phone / portable audio player.
S2R72A21 is complying with the automotive level grade quality and support the max temperature range up to 105℃.
On-board Quality
Excellent data communication characteristics (HS 480Mbps)
HS transmission: Transmission waveform with low jitter - Support HS transmission current control
-Support HS transmission current control
HS reception: Very high reception tolerance
Automatic USB line monitor and control function
HS communication: Re-synchronize with HS Synchronizer
Except for HS communication: Passes through with analog switch
Small Size Package
QFN32-pin 5mm x 5mm Wettable
Extensive Operating Temperatrue Range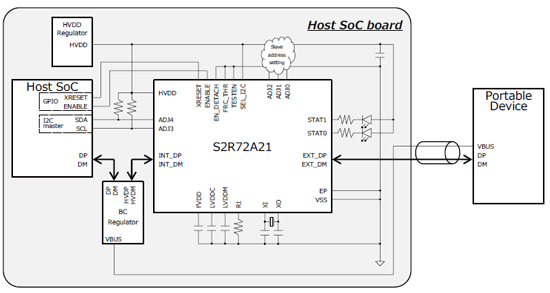 Video Contents