Innovating the production processes of our customers with inkjet solutions.
Our goal is to innovate printing and production processes for customers by providing solutions based on Epson's inkjet printheads, which boast numerous advantages, including outstanding printing performance, environmental performance, and ink compatibility.
Market Areas
Inkjet printing systems are rapidly expanding beyond the home and business segments and into the commercial and industrial space. Epson will take the lead in accelerating the digitization of printing by actively providing printheads and equipment for use in a diverse range of applications.
We will also apply Epson's inkjet technology in new segments such as displays and electronics and will drive the creation of new markets through printhead sales and open innovation.
Actual inkjet technology applications
Formation of functional films by patterning OLED panel devices with conductive ink and luminescent ink
Inkjet patterning systems dramatically increase the productivity of functional layer formation on OLED panels
Initiatives to further expand the applications for inkjet technology
One of Epson's strategies under its current three-year plan is to accelerate growth by taking maximum advantage of assets and by engaging in collaboration and open innovation. Epson aims to drive inkjet innovation by stepping up outside sales of inkjet heads, particularly those that incorporate core devices such as PrecisionCore printheads, as well as by seeking more open innovation opportunities.
The Fujimi Inkjet Innovation Lab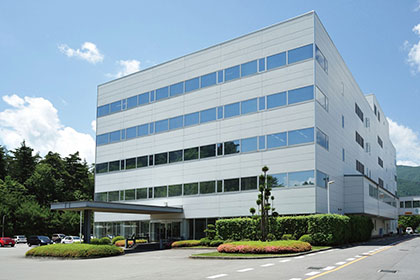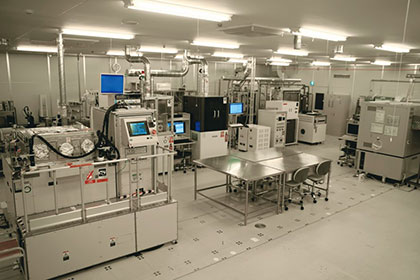 The Fujimi Inkjet Innovation Lab is equipped with an inkjet patterning system that employs Epson inkjet heads and an inkjet ejection evaluation unit, as well as other equipment that can be used for the trial fabrication and evaluation of electronic devices. Lab users can draw on Epson's technology as they explore the potential for inkjet technology in various kinds of applications.
The use of printing systems in the production of touch sensors, OLED panels, and innumerable other devices is expected to grow. Epson will expand the scope of inkjet applications by using the lab as a center primarily for collaborating with research institutes and companies that are innovating inkjet production processes or developing new inkjet-compatible materials. Epson will accumulate knowledge and insights through the work performed at the lab and will drive further advances in its inkjet heads for industrial uses.